Gen Z's Activism on TikTok is Outperforming the Performative
While questions linger around whether the app will be banned in the US, TikTok's content has evolved dramatically in the past few months. The platform once known for PG lip-syncs and viral dances has become increasingly political as users take to the Chinese video networking app for grassroots political activism.
But is the political content coming out of TikTok resulting in action, or is it just another version of performative activism that has become commonplace on other social media platforms?
In July 2020, Reach3 Insights conducted a study exploring TikTok's role as a driver of social activism. Leveraging a conversational, mobile messaging-based approach using the Rival Technologies platform, our study engaged 495 people (sourced from Dynata), mostly from Generation Z (age 13-24).
1. For Gen Z, the personal is political
Gen Z is uniquely engaged in identity politics, as politics pose existential questions to the youngest generation
Amid the Black Lives Matter movement, TikTok has emerged as an unexpected channel for Gen Zs to make political statements.
Gen Z were more likely than their older counterparts to say that a variety of social issues matter to them.
Not only do they care about more issues, but they also follow it up with action. 69% of Gen Zs have discussed these issues with their family or friends, while only 41% of their older counterparts could say the same.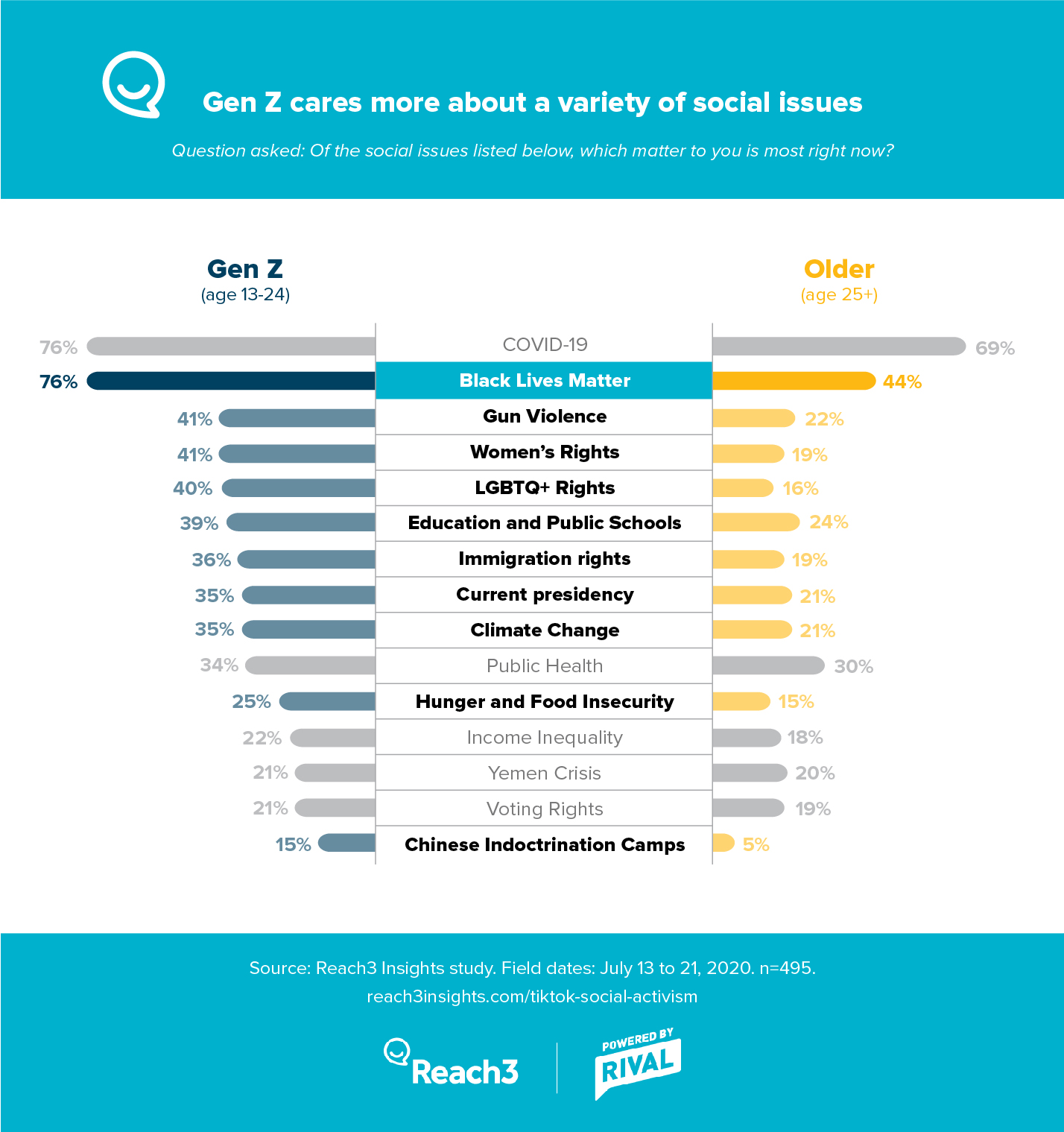 2. TikTok is where Gen Z is sharing their politics and organizing
Almost all Gen Z have seen a TikTok, and most are actively using the platform.
of Gen Z have at least seen TikToks on a social media platform
of Gen Z are active TikTok users
of Gen Z say TikTok helps them keep up with the news
Gen Z's politicism has exploded on the platform once intended for short dancing, videos, and jokes.  The app's most popular influencers as well as everyday people have posted messages of support, protest footage, videos of themselves arguing with their families, explanations of policies, resources, and more.
3. Activism on the platform is leading to real changes.
TikTok users are also more likely to engage in political activities because of TikTok. For a generation of users that may have been discounted and underestimated, TikTokers have precipitated tangible social change in a grassroots fashion. The platform has been highly effective in spreading information and getting people to act on their political beliefs.
TikTok has helped spread information and awareness
believe TikTok has generated meaningful action for #blacklivesmatter
say TikTok has helped them learn about social justice and politics
And TikTok users have taken action as a direct result of something they saw on the platform.
have engaged in discussions with friends and family
have educated themselves further
TikTok users are even more likely than non-users to have recently attended a BLM protest. 
TikTokers

26%

26%

TikTok Non-Users

13%

13%
In June, TikTok teens and K-pop stans teamed up to inflate Trump's Tulsa rally numbers and show that there's strength in (lack of) numbers. Online activism on TikTok is an emerging way for young people who may not even be old enough to vote to make a difference.
Most TikTokers found the Tulsa prank captured the ethos of how Gen Z creatively impacts their turbulent political waters.
Curious to know more?
Email us at info@reach3insights.com or
use the Contact button below.